EVENT ORGANIZER PAGE
Rhonda Howell is a 39 year old Wake Forest, NC native.  She attended Wake Forest-Rolesville High School and The University of North Carolina at Chapel Hill.  She began her career at Progress Energy (now Duke Energy), and went on to a 10 year career as a commercial loan underwriter in banking, most recently for Wells Fargo.  In July 2015, she had severe back pain, which was later diagnosed as stage IV breast cancer, metastasized (spread) to her spine and liver.  She quickly retired from her banking career to spend as much time as possible with her husband Adam and now 6 year old son, Luke.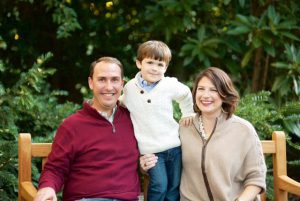 Rhonda believes that her job now is to advocate for more funding for metastatic breast cancer.  She dedicates a lot of her time advocating for METAvivor. Rhonda has been in treatment for the last 3 years.  Rhonda is thankful for having minimal side effects and lives a relatively normal life.  She enjoys going to the beach and the pool with her son, cuddling with her son, and spending time with family and friends.  She is hopeful for many more years planning the Triangle Metsquerade and watching her son grow up.
Rhonda's contact information:
919-812-4002
rhondachowell@hotmail.com